Kleancars India
Auto Research * & E-Commerce
Copyright ©2004 KleancarsIndia.com
*Auto Research solutions
Patent No 3453789056/uc/dg All Rights reserved
India
Tel: etron Informatics
Fax: +1916-644-7399


INTRODUCTION

Where You are Worth More than you Think!!!ģ (Select the item image or name to view additional information)
Buying Car Insurance can be confusing. Here are some ways to reduce your premiums while still getting the coverage you need & Cheapest Car Insurance .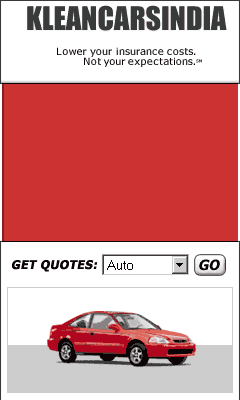 Shop around, and do it regularly. Insurance is a competitive industry, and insurers change their rates over time. Make sure you have the best deal you can get each and every year.


Buy vehicles with safety devices. Some insurers provide discounts for airbags and anti-lock brakes because statistics show they help mitigate the occurrence of crashes and/or the severity of injuries.
Check on security savings. Alarms or anti-theft devices may qualify for insurance discounts.


Take public transportation when possible. Taking the bus or train, or even carpooling, lowers the annual mileage on your vehicle and can result in a lower insurance premium

Common Mistakes
The excitement of buying a new car can often lead to mistakes when insuring it. It pays to be just as prudent when buying insurance as you are when buying the car. Donít make these common insurance shopping mistakes:

Not shopping for the best price. Donít simply choose the first carrier you contact. This may be convenient and save you time, but it may also cost you money.
Buying a car before checking to see what it costs to insure. Many people discover the car of their dreams is simply too expensive to insure. They consequently end up selling it shortly after purchase.
Not reading your policy until youíve already purchased it. It pays to understand your policy and what it covers. Know your limits before you actually need them.
Choosing limits that are too low. Donít leave yourself exposed to a lawsuit that could potentially cost you everything you haveócar, house, possessions, savings, etc.
Ending up with a policy that doesnít cover all the drivers in the household. It can be a costly mistake to leave a family member off your policy. If someone has an accident and isnít covered, youíre still responsible.

TO REMOVE CAR INSURANCE CLICK ON INQUIRIES TAB BELOW

OUR SPECIALISED OFFICER WILL BE AVAILABLE FOR YOU IN A MOMENT
Next: PREPAIRING YOUR CAR FOR SALE
When it comes to selling your car, you never get a second chance to make a great first impression